Top 10 Family-Friendly Summer Activities in Lake Tahoe
May 16, 2023
There's nothing quite like a family summer vacation! Work is left at the office, and kids are out of school, so the only thing you need to think about is how to best bond with your family as you relax. 
Lucky for you, there are many family-friendly summer activities in Lake Tahoe to discover. Lake Tahoe is an excellent choice for families with kids of all ages because there is something for everyone here. Little energizer bunnies can get their wiggles out, splashing in the water or running down mountain trails. Older kids can find their adventure exploring on a mountain bike or zipping through the air on a zipline.
From water sports to hiking trails and everything in between, here are the top 10 must-do summer adventures that will make your Lake Tahoe vacation unforgettable. So pack your bags and get ready to experience the best Lake Tahoe family summer activities!
Top 10 Family-Friendly Summer Activities in Lake Tahoe
Top 10 Lake Tahoe Summer Activities For Families
1. Lounge On A Lake Tahoe Beach
By far, Lake Tahoe's most effortless family summer activity is planning a beach day. Lake Tahoe has multiple sand bars that get your family easy access to the crisp, clear waters of the lake. While you lounge, eat a snack, read a book or join in the fun, your kids can play in the sand, climb nearby (small) rocks or jump around in the water. Everyone will find something to entertain them!
Some of our favorite Lake Tahoe beaches:
Kings Beach

– This area has a fantastic beach and a cute little town that makes for a perfect spot to get post-beach ice cream. 

Sand Harbor

– Come to this beach for an option for rockier areas to climb and explore.
2. Take a Short Hike in The Mountains Surrounding Lake Tahoe
Do you have kids always turning over rocks and finding sticks to carry? Get their wiggles out on a family-friendly Lake Tahoe hike! There are so many trails around the lake to explore, almost all with stunning water views. Whether your kids can handle a challenging route or you're just looking for a path to wander, your hiking boots can take you to some beautiful views. 
Some of our favorite Lake Tahoe Hikes
Eagle Falls Trail

– This is a great beginner 2-mile hike that takes you through stunning evergreens, has views of the lake and ends at a spectacular waterfall. Keep an eye on young kids when you reach the falls. 

Emerald Point Trail

– This 4.4-mile hike does have one hill, but the rest of the trail is relatively flat and follows the shore of the lake.
3. Rent Bikes and Explore The Shore
Visitors and locals alike can't get enough of Lake Tahoe from the seat of a bike. With several maintained trails for easy pedaling to exciting mountain biking trails for adrenaline seekers, there is something for every level of biker. Our Lake Tahoe bike rentals include options for luxury e-bikes, high-performance mountain bikes, children's bikes, and even trailers and child seats for smaller children.
Our Favorite Family-Friendly Bike Paths in Lake Tahoe:
East Shore Bike Path

– this easy path around the lake crosses interesting bridges and gets you front-row views of the surrounding mountains and the lake. Best part? Bike rentals are right at the start of the path!

Flume Trail

– For older children who know their way around a mountain bike, the Flume Trail will give them all the technical turns and heart-pumping hills they crave! Remember that this trail is only for mountain bikes and is not a great option for beginners. 
4. Rent a Paddleboard Or Kayak To Get On The Water
Looking at the water is beautiful – but there's nothing quite like skimming across it! The crystal-clear water ensures you can see the bottom of the lake in spots, making it feel like you're floating on air. Your family can't miss it! There are several spots to rent kayaks, SUPs, and canoes along the shore – pick your place and get out on the water!
Favorite spots for kayaking and SUPing in Lake Tahoe
Emerald Bay

– Picture calm, clear waters and lake views as far as the eye can see!

Sand Harbor

– Head back to San Harbor, a popular spot for paddleboarding, thanks to the interesting boulders to navigate.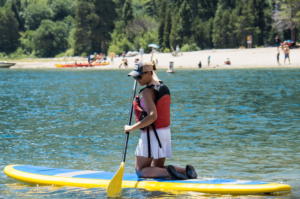 5. Plan A Fishing Trip
Catch trout, salmon, and bass with some of the most picturesque views to keep you company! Fishing is a great way to teach your kids patience and attention to detail. There are several spots around Lake Tahoe where you can quickly catch a few fish before attention spans run out! 
If you're new to fishing or don't have the equipment handy, choose a guided tour so all you need to worry about is having fun with the family. 
6. Take A Drive On One Of Many Scenic Roads
From finding time to daydream to helping your baby nod off, the winding roads around Lake Tahoe can allow everyone to sit back and enjoy the views. Throw on a road trip playlist, and you have a great activity for when everyone is tired out from the day's action. 
Our favorite scenic drives in Lake Tahoe:
Lake Tahoe Loop

– Don't overthink it! The Lake Tahoe Loop is a gorgeous road to travel. 

Mount Rose Highway

– Gain some elevation on the Mount Rose Highway to reach some stunning overlooks.
7. See The Best Of The Clear Waters on a Boat Tour
Can't get enough of the water? Head out on a bigger boat to see and experience more! From motorboat rentals to boat tours, you can set out on the lake and explore more than you could from a small paddleboard. 
For those who want family fun time and a chance to water ski, renting a motorboat is a great option. However, if you're looking for a more interactive experience, book a boat tour to learn about the area's history, flora and fauna.
8. Zipline or Adventure Park
If you have little monkeys for children, they will be over the moon when you take them to zip, crawl, and jump in the treetops!
Ziplining is an exciting activity that will get you zooming high above Lake Tahoe. This ziplining adventure at Heavenly Ski Resort needs a Gondola Ride to reach the start point!
If your kids want to enjoy more aerial adventures, the Treetop Adventure Park has several courses with bridges, monkey swings and more for the ultimate obstacle course.
9. Catch Some Speed On The Lake Tahoe Mountain Coaster
For kids with a need for speed, the Ridge Rider Mountain Coaster will be the highlight of their Lake Tahoe Trip. This rail ride takes you through stunning lake views while offering an exhilarating roller coaster experience. Riders have some control over the speed of the cars, so kids of all comfort levels will have a fantastic time. 
10. Try Horseback Riding
Your little cowboys and cowgirls will love taking on a Lake Tahoe trail by horse! Several ranches around the area can help you get in the saddle with a friendly horse and guide you to some beautiful Lake Tahoe views. These guided trips are beginner-friendly, so even kids who have never touched a horse will feel ready to ride.
Don't be overwhelmed by the endless family summer activities in Lake Tahoe to discover! No matter what excites your kids, you can find it along the shores of our beautiful lake. Need help finding a fun way to ride around while you're here? Reach out to our team! We will get you and your family on a bike in no time.  
Looking for more about Lake Tahoe?